PheeNet WAPD-102AC is an IEEE802.11ac 5GHz, and IEEE802.11n 2.4GHz Concurrent High Power Ceiling / Wall-Mount Wireless AP with 10/100/1000 IEEE802.3at/af POEwhich supports maximum throughput 1200Mbps, up to 300Mbps 2.4GHz and 867Mbps 5GHz, and providing the extra edge of increased flexibility & performance of WiFi deployment for SMB, SME, office, enterprise, campus, hospital, luxury houses, hotels, etc. WAPD-102AC supports 1 Port POE Pass-through to power on another POE Device (POE IP Camera, POE AP, etc.).

WAPD-102AC integrates a long-range power amplifier and high sensitivity receiver to deliver unmatched reliability and performance at large coverage application, resulting in fewer required APs for a given deployment.

WAPD-102AC has 1st radio 802.11n 2.4GHz 800mW, and 2nd radio 802.11ac 5GHz 500mW. Depends on deployment demand, user can use both radio works as AP to provide WiFi service, or 1st Radio as AP and 2nd Radio as WDS mode/CPE mode, or any flexible combination). It concurrently addresses the growing needs of BYOD and bandwidth demands with no degradation in performance.

Comparing with traditional Wifi AP, WAPD-102AC is an Autonomous Authentication AP, which supports Captive Portal, and many kinds of User Authentication methods to secure Wifi user access. Meanwhile, administrator can control and manage several WAPD-102AC via internal CAP Mode, for instance Batch AP setup, User Authentication Profile apply, etc. in order to simplify administrator's work in manage numbers of Wifi Access Points efficiently and effectively in small to medium size network.

In large network, administrator can integrate WAPD-102AC with WMS-508N Wireless LAN Controller W/ Radius Server to do large scale AP Management, and On-Demand & Pre-Generated ticket User Authentication. To conclude, PheeNet WAPD-102AC is a best IEEE802.11ac 5GHz and IEEE802.11bgn 2.4GHz Indoor Ceiling / Wall-Mount Wireless AP for Wifi User Service from small to large scale Wifi Network.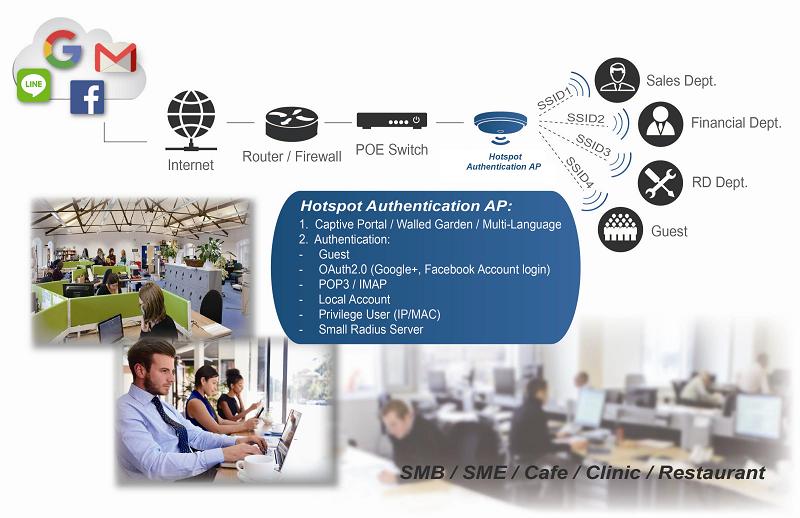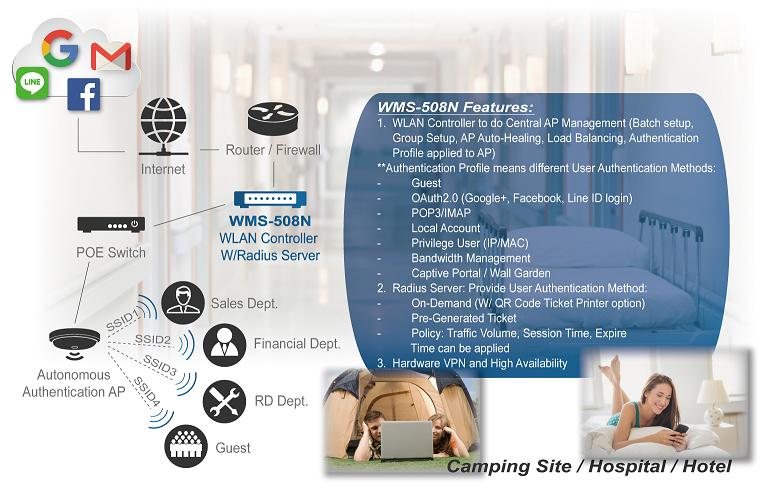 Wireless Operation Modes
1. CAP (Control Access Point) Mode – Controller-less Centralized AP Management
■ Auto discovery for managed APs
■ AP-Automatic configuration and provisioning in Batch AP Setup Section (Batch AP Setup Item: VLAN Setup,
Authentication Profile, Gateway & DNS, Time Server, Management Setup, Wireless Basic Setup, Wireless
Advanced Setup, VAP Setup, Upgrade Via TFTP Server, Upgrade Via HTTP URL, Delay Reboot, Reboot Now)
■ AP Group management –maintain a set of setting templates that simplify the task to assign the same setting to
multiple APs, including Dynamic Channel Allocation, Maximum User Limitation, MAC Filter Control
■ Auto-Heal between AP to guarantee Wireless Coverage Quality
■ Graphic Display of Map by Group and indicate the AP place on the map
■ Central firmware Upgrade-Select multiple APs and upgrade their firmware at the same time by HTTP and TFTP
■ Managed AP Monitoring
- Monitor APs for traffic and system information
- Track the number of associated clients to the APs
- Supports Location Map Management
■ Authentication Profile
- Numbers of Authentication Profile: 9
- Authentication Profile setup includes
A. Authentication Method:
1) Guest – Auto expired guest account (Login time in Minutes, Login type – One time Or Multiple time,
QoS (Upload/Download Bandwidth)
2) Local User
3) OAuth2.0 (Google, FaceBook, Line)
4) POP3/IMAP
B. Captive Portal (Template and Multiple Language define for each column displayed in Captive Portal;
Customized Login HTML file in order to add advertisement link)
C. Multiple User Login Enable/Disable
D. Login Timeout Timer
E. SSL protected login portal page
F. Wall-Garden, Privilege User List for each VLAN
G. Bandwidth Control (Total User Upload/Download, Peer User Upload/Download)
- Authentication Profile can be applied to AP centrally

2. Access Point Mode
■ Pure AP Mode
■ AP with WDS Mode
■ Authentication AP Mode: For each VLAN/VAP, administrator can define different Authentication policy:
A. Authentication Method:
1) Guest – Auto expired guest account (Login time in Minutes, Login type – One time Or Multiple time, QoS
(Upload/Download Bandwidth)
2) Local User
3) OAuth2.0 (Google, FaceBook, Line)
4) POP3/IMAP
5) Built-in 802.1x Radius Server for Radius Account
B. Captive Portal (Template and Multiple Language define for each column displayed in Captive Portal; Customized
Login HTML file in order to add advertisement link)
C. Multiple User Login Enable/Disable
D. Login Timeout Timer
E. SSL protected login portal page
F. Wall-Garden, Privilege User List for each VLAN
G. Bandwidth Control (Total User Upload/Download, Peer User Upload/Download)

3. Client Bridge + Repeater AP Mode
It can be used as a wireless client to receive wireless signal over last mile applications, helping WISPs deliver wireless broadband Internet service to new residential and business customers. In this mode, the wired/wireless clients of WAPD-102AC are in the same subnet from Main Base Station. If 5GHz Radio work as Client Bridge, 2.4GHz is Repeater AP, and vice versa.

4. WISP / CPE + Repeater AP Mode
Either 5GHz or 2.4GHz Radio can be used as a WISP client router to receive wireless signal over the last mile, helping WISPs deliver wireless broadband Internet service to new residential and business customers. In this mode, the WAPD-102AC is a gateway with NAT functions. The wired/either 5GHz or 2.4GHz wireless clients of WAPD-102AC are on the different subnet from Main Base Station. If 5GHz Radio work as WISP/CPE, 2.4GHz is Repeater AP, and vice versa.
 
5. Router AP Mode
Ethernet port (POE IN) on WAPD-102AC is WAN, and WAPD-102AC is a gateway with NAT functions. It's Wireless Interface (2.4Ghz and 5GHz) accepts wireless clients connections from client devices, and the wireless clients of WAPD-102AC are on the different subnet from Main Base Station. Router AP mode does not support User Authentication function.

Wireless Feature
■ Both 2.4GHz and 5GHz Dual Band Concurrent Operation
■ Transmission Power Control: Level 1 - 9
■ Channel Bandwidth Setting: 20MHz, 20/40MHz, 80MHz
■ HT TX/RX Stream Selection: 1 or 2
■ Supports packet transmission time control through Slot Time and ACK Timeout interval control functions
■ Supports Beacon Interval and performance control DTIM Interval for client power efficiency

Wireless Security
■ SSID Visibility support to display or hide ESSIDs, and VLAN assignment on ESSID
■ Support 802.1x authentication (EAP-MD5 / TLS / TTLs)
■ WEP 64 / 128bit EAP-TLS + Dynamic WEP, EAP-TTLS + Dynamic WEP, PEAP/ MS-PEAP + Dynamic WEP
■ Support security protocol IEE802.11i Preauth (PMKSA Cache)
■ WPA-PSK/TKIP, WPA-802.1x/TKIP, 802.11i WPA2-PSK/CCMP/AES 128/256bit, WPA2(802.1x/CCMP/AES
128/256bit), No. of registered Radius Servers: 1
■ Setting for TKIP/ CCMP/ AES 128/256bit (ASCII 63 & HEX 64) key's refreshing period
■ ESSID supports VLAN Tag function; each group can use different virtual ESSID tag for organized traffic
■ Access Control List (ACL) by MAC Address
■ Client Isolation and Client Connection Limitations

Networking & Management
■ Support IEEE802.1Q VLAN Tag
■ Support IEEE802.1d Spanning Tree Protocol
■ Router/WISP mode supports DHCP server function to automatically give IP address to end clients
■ Router/WISP mode support fixed IP for DHCP clients and PPPoE dial-up link to the WAN Wifi network
■ Router/WISP supports PPPoE Reconnect, conveniently connecting clients to the DHCP server
■ Support Proxy DNS, Dynamic DNS, and NTP client
■ Intuitive Web-Based management interface, Administrator Access: HTTP and HTTPS and support CLI access via
Telnet and SSH
■ Support remote Firmware Upgrade via Web, Reset to Factory Default
■ Support SNMP v1/v2c/v3, MIBII; Also support SNMP Traps to a list of IP Address
■ Support Ping Watchdog to detect crashes after consecutive failed pings
■ Support System log Setup to remote server

Quality of Service
■ Download and Upload traffic control and support Traffic Analysis and Statistics
■ IEEE802.11e WMM
■ DiffServ/TOS, COS, IEEE802.1Q Tag VLAN priority control

Status Monitoring
■ Status monitoring of on-line users and authentication users
■ Rea-Time Online Users Traffic Statistic Reporting and users connection status
■ Support Syslog for diagnosing and troubleshooting
■ User traffic history logging

Hardware Features Highlights
■ 2.4GHz IEEE802.11bgn standard with maximum data rate of 300Mbps
■ 5GHz IEE802.11an/ac with maximum data rate of 867Mbps
■ 2.4GHz 800mW and 5GHz 500mW High Power Design
■ Built-in Omni Antenna
■ Support POE Pass Through function to allow power to be passed to subsequent 802.3af/at POE devices
Wireless

Standard

IEEE802.11ac
IEEE802.11n
IEEE 802.11g
IEEE 802.11b

Frequency Band

IEEE802.11b/g:
2.412 ~ 2.462GHz (USA)
2.412 ~ 2.484GHz (Japan)
2.412 ~ 2.472 GHz (Europe ETSI)
2.457 ~ 2.462 GHz (Spain)
2.457 ~ 2.472 GHz (France)

IEEE802.11 a/n/ac :
5.150 – 5.350 & 5.725 – 5.825 GHz(USA)
4.900 – 5.250 GHz(Japan)
5.150 – 5.350 & 5.470 – 5.725GHz (Europe ETSI)

Modulation

IEEE802.11b:DSSS (DBPK,DQPSK,CCK)
IEEE802.11g:OFDM(64-QAM,16-QAM,QPSK,BPSK)
IEEE 802.11n:(OFDM(64-QAM, 16-QAM, QPSK, BPSK)

Data Transfer Rate

IEEE802.11b:1 / 2 / 5.5 / 11Mbps (auto sensing)
IEEE802.11g:6 / 9 / 12 / 18 / 24 / 36 / 48 / 54(auto sensing)
IEEE802.11n : 300Mbps (at 40MHz) , 150Mbps (at 20MHz)
IEEE802.11ac :867Mbps(at 80MHz)

Security

WEP (64/128/152 Bit)
WPA-PSK(AES+TKIP) / (802.1x , RADIUS)
WPA2(PSK(AES+TKIP) / (802.1x , RADIUS)
802.1x (64/128 Bit)
User Isolation
Hidden SSID
MAC Address Filtering (MAC ACL)
IEEE802.11 mixed mode support open and shared key authentication
VLAN assignment on BSSID
Client to Client Isolation
AP to AP Isolation

Sensitivity

-92dBm

Output Power

2.4GHz : 800mW
5GHz : 500mW

Antenna

Built-in 5GHz 5dBi Pifa Antenna x 2, 2.4GHz 3dBi Pifa Antenna x 2

Channels

802.11b/g/n :
11 for FCC,14 for Japan,13 for Europe, 2 for Spain, 4 for France
802.11a/n/ac :
12 For FCC , 4 for Japan 4, 18 for Europe

Operating Mode

AP Mode (Hotspot user authentication supported)
CAP Mode (Controlerless AP Management)
WISP Mode
Client Bridge Mode
Router AP Mode

QOS

IEEE 802.1p /COS
IEEE 801.11e WMM
IEEE 802.11D Spanning Tree

Management

- Two administrator accounts
- CLI access (Remote Management ) via Telnet and SSH
- Remote firmware upgrade (via Web HTTP Sever / TFTP / Local )
- Utilities to backup and restore the system configuration
- Full Statistics and Status Reporting
- Real time traffic monitor
- Ping Watchdog
- Status monitoring of on-line users
- Interface connection status
- Support Syslog for diagnosing and troubleshooting
- User traffic history logging
- SNMP v1,c ,v3
- SNMP Traps to a list of IP Address
- Support MIB-II
- NTP Time Synchronization
Hardware

Base Platform

QCA9557 +QCA9882+QCA8337

Clock Speed

720MHz

SDRAM

On board : 64 Mbytes

Flash

On board : 16 Mbytes

Interface

10/100/1000BASE-TX auto-negotiation Ethernet port x 2 (RJ-45 connector) ; Auto MDI/MDI-X
Support 48VDC IEEE 802.3at/af Active Power Over Ethernet X 1, Support POE Pass-through x 1

LED

1 x Power, 2 x LAN, 1 x Wireless 2.4G, 1 x Wireless 5GHz

Environment

Operating Temperature:0~50℃
Storage Temperature:-20~60℃
Humidity: 5%~90%(non condensing)

Power Supply

Power Over Ethernet (IEEE802.3at/af) or 12V/1A DC
System Power Consumption: 10W (Peak Power/Full Utilization)
(Option: 12V/1A DC Adapter)

Dimensions

158(W) x 158(L) x 37(H)(mm)

Weight

150g

Certificate

FCC , CE