PheeNet Super High Throughput Wireless Backhaul are adopting Wireless TDMA MIMO technology to provide an affordable and reliable connectivity.

All of products are high-performance outdoor-deployable wireless ethernet bridge radio that provides wireless connectivity between multiple network locations.

With the high throughput and long-distance transmission, it is the appropriate Wireless backhaul solution for WISP, Telecom Carriers, Service Providers and Enterprises.
Application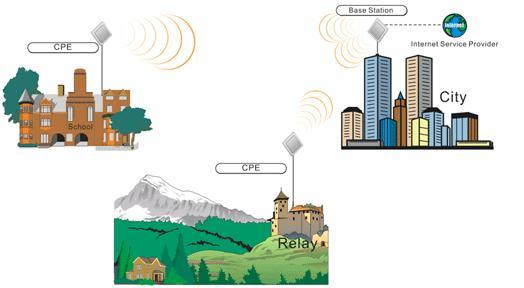 Features
1. Anti-Interference to guarantee the Link Performance
2. Actual reachable range > 50km
3. Actual Giga Bandwidth
4. Support Bridge PTP, PTMP
5. High security (AES 128bit)
6. Ease of Installation (Real time Link Test for Local and Remote RSSI)
7. Transmit Power Control
8. Channel Bandwidth Control
9. Management VLAN
10. IP67 Rated Waterproof Metal Outdoor Enclosure with Vent Design
Specification
Wireless
Standard
Proprietary TDMA + MIMO
FrequencyBand
4910-6080MHz

Modulation
64QAM3/4,64QAM2/3, 16QAM3/4, 16QAM1/2, QPSK
3/4, QPSK1/2, BPSK3/4,BPSK1/2
DataRate
Adjustable rates range for transmission data rates for MIMO single stream mode and dual stream mode
ChannelBandwidth
5MHz, 10MHz, 20MHz, 40MHz
Security
AES 128bit
Sensitivity
-92dBm
OutputPower
25dBm
TransmitPower
Control

5levels
OperatingMode

CPE
Base Station

SoftwareFeatures
LinkTestTool (RealTime LocalandRemote RSSI)) SpanningTree(STP)
Management VLAN
NTPClient
VPN Pass-Through (IPSec, PPTP, L2TP)
Response Time <5ms

Management
Web-Basedmanagement
Support command line over SSH
Remotefirmwareupgradeable
SupportSNMPV2c, V3(privateMIB,802.11 MIB) CLI
Backup/Restore
SystemLog
RemoteLogServer for Event log
HardwareWatchDog
Show wireless network topology in geographic map
Dual firmware images to automatic recover last firmware image in case power drop in FW upgrade
Hardware
Flash
16MB
SDRAM
64MB
LEDIndication
Power,Ethernet,Wireless,RSSI(5LEDs)
AntennaConnectors
4 x N type Female Connectors


Ethernet
10/100/1000BASE-TXauto-negotiationEthernetport
x1(RJ-45connector)
AutoMDI/MDI-Xenabled,IEEE802.3atPower Over
EthernetCompatible

Environment
OperatingTemperature:-30°C ~80°C
StorageTemperature:-30°C ~ 85°C Humidity:100%(noncondensing)
PowerSupply
802.3at POE (Injector enclosed)
Waterproof
IP68Certificated

Mounting
Wall Mount, PoleMount,Optional PoleMount forLight
Pole
Dimensions
259 (L) x 250 (W) x 75 (H) mm
* Spec. could be changed without further notice