PheeNet WAC-1200 is an IEEE802.11ac 5GHz, and IEEE802.11n 2.4GHz Concurrent WiFi Hotspot Gateway with 10/100/1000 Giga Ethernetports which supports maximum bandwidth 1200Mbps, up to 300Mbps 2.4GHz and 867Mbps 5GHz, and providing the extra edge of increased flexibility & performance of WiFi deployment for SMB, SME, office, luxury houses, Café, Restaurant, etc. It concurrently addresses the growing needs of BYOD and bandwidth demands with no degradation in performance.

Being a Wireless Hotspot Gateway, WAC-1200 equips with complete WiFi AP function, also supports Captive Portal, and different User Authentication methods, On-Demand with QR code printing, Pre-Generated Ticket, OAuth2.0 (Facebook, Google), Guest, Local Radius, POP3/IMAP, and Radius Server to secure and manage Wifi user access.

Not only Web Management, but also PheeNet provide Cloud & Mobile APP for Administrator to monitor and manage WAC-1200 anytime and anywhere.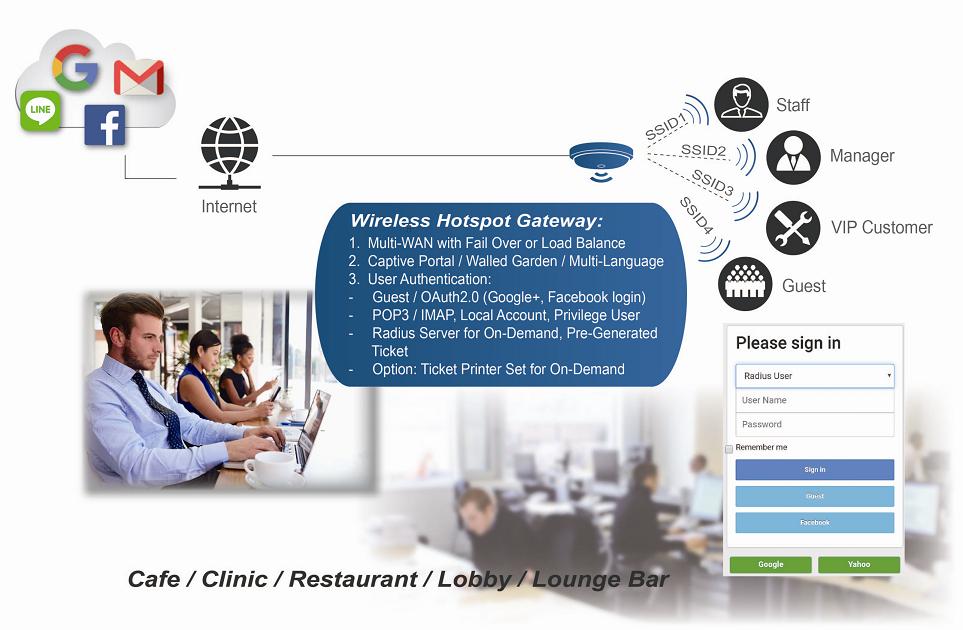 Wireless Feature
■ Both 2.4GHz and 5GHz Dual Band Concurrent Operation
■ High speed transmit and receive data rate – up to 867Mbps while operating in IEEE 802.11ac (5GHz 80MHz) mode and up to 300Mbps while operating in IEEE802.11 an(5GHz, 40MHz) or b/g/n (2.4GHz) mode.
■ Transmission Power Control: Level 1 - 9
■ Channel Bandwidth Setting: 20MHz, 20/40MHz, 80MHz
■ HT TX/RX Stream Selection: 1 or 2
■ Supports packet transmission time control through Slot Time and ACK Timeout interval control functions
■ Supports Beacon Interval and performance control DTIM Interval for client power efficiency
■ No. of SSID (Virtual AP): 8 Per Radio
■ No. of Max. WDS Setting: 8 Per Radio

Wireless Security
■ SSID Visibility support to display or hide ESSIDs, and VLAN assignment on ESSID
■ Support 802.1x authentication (EAP-MD5 / TLS / TTLs)
■ WEP 64 / 128bit EAP-TLS + Dynamic WEP, EAP-TTLS + Dynamic WEP, PEAP/ MS-PEAP + Dynamic WEP
■ Support security protocol IEE802.11i Preauth (PMKSA Cache)
■ WPA-PSK/TKIP, WPA-802.1x/TKIP, 802.11i WPA2-PSK/CCMP/AES 128/256bit, WPA2(802.1x/CCMP/AES 128/256bit), No. of registered Radius Servers: 1
■ Setting for TKIP/ CCMP/ AES 128/256bit (ASCII 63 & HEX 64) key's refreshing period
■ ESSID supports VLAN Tag function; each group can use different virtual ESSID tag for organized traffic
■ Access Control List (ACL) by MAC Address
■ Client Isolation and Client Connection Limitations

User Authentication
■ Guest Account – Auto expired guest account (Login time in Minutes, Login type – One time or Multiple
time
■ On-Demand and Pre-Generated ticket
- Create Package
Define minimum User Name / Password
Define Accounting Methods
- Create Accounts
Manual
Via Ticket Printer (option)
Import
■ On-Demand support the ticket print out from additional Network Printer, or special ticket printer set
(PSS-120 and PPT-002); QR code on the ticket is available
■ Oauth2.0 – Facebook Account login, Google Account Login
■ POP3/IMAP: define POP3/IMAP email server for Authentication
■ Local User: manually setup Local User Name and Password
■ Radius Server / LDAP: define external Radius Server or LDAP Server for Authentication
■ Multiple Login: enable Multiple Login to use one account for multiple devices
■ Wall Garden
■ Customize Login Page / Captive Portal: Template and Multiple Language define for each column displayed in Captive Portal; Customized Login HTML file in order to add advertisement link
■ SSL Protected Login Portal Page
■ Login Timeout Timer
■ Support MAC & IP Filter, and MAC & IP Privilege List
■ Bandwidth Control (Total User Upload/Download, Peer User Upload/Download)

Networking & Management
■ Support IEEE802.1Q VLAN Tag
■ Supports DHCP server function to automatically give IP address to end clients
■ Support DHCP Relay
■ Support Dynamic IP (DHCP Client), fixed IP for DHCP clients and PPPoE dial-up link to the WAN Wifi network
■ Supports PPPoE Reconnect, conveniently connecting clients to the DHCP server
■ Support Proxy DNS, Dynamic DNS, and NTP client
■ Support IP Plug & Play
■ Support SIP Pass-Through NAT
■ Intuitive Web-Based management interface, Administrator Access: HTTP and HTTPS and support CLI access via Telnet and SSH
■ Support remote Firmware Upgrade via Web, Reset to Factory Default
■ Support SNMP v1/v2c/v3, MIBII; Also support SNMP Traps to a list of IP Address
■ Support Ping Watchdog to detect crashes after consecutive failed pings
■ Support System log Setup to remote server
■ Support Cloud & Mobile APP for administrator to monitor and manage the device anytime and anywhere

Quality of Service
■ Download and Upload traffic control and support Traffic Analysis and Statistics
■ IEEE802.11e WMM
■ DiffServ/TOS, COS, IEEE802.1Q Tag VLAN priority control

Multiple WAN
■ Load Balance
■ Fail Over
■ WAN Connection Detection
■ Bandwidth Management

Status Monitoring
■ Status monitoring of on-line users and authentication users
■ Real-Time Online Users Traffic Statistic Reporting and users connection status
■ Support Syslog for diagnosing and troubleshooting
■ User traffic history logging

Hardware Features Highlights
■ 2.4GHz IEEE802.11bgn standard with maximum data rate of 300Mbps
■ 5GHz IEE802.11an/ac with maximum data rate of 867Mbps
■ External 5dBi High Gain Omni Antenna
Wireless

Standard

IEEE 802.11a/b/g/n/ac

Security

64/128-bit WEP, WPA and WPA2 securities and also IEEE 802.1x authentication

Frequency Band

2.4GHz and 5GHZ wireless networks connection simultaneously  

Receive Sensitivity

802.11b <= -76dBm
802.11g <= -65dBm
802.11n <= -61dBm
802.11a <= -64dBm
802.11ac <= -59dBm

Output Power

802.11: 18± 2dBm
802.11g: 15± 2dBm
802.11n: 15± 2dBm
802.11a: 14 ± 2dBm
802.11ac: 14 ± 2dBm

Channel

802.11b/g/n :
11 for FCC,14 for Japan,13 for Europe, 2 for Spain, 4 for France
802.11a/n/ac :
12 For FCC , 4 for Japan 4, 18 for Europe

Operation Mode

Hotspot Gateway mode

Hardware

Flash

16MB SPI Flash

SDRAM

512MB DDR3 SDRAM

Interface:

Ø 5 x 10/100/1000Mbps Giga Ethernet
(Software Configuration to be 4WAN + 1LAN or 1WAN + 4LAN)
Ø 1 x USB2.0
Ø Hardware Reset Button

LED

Power, 2.4G WiFi, 5G WiFi, WAN, LAN

Antenna

4 x Detachable 5dBi High Gain Antenna
(2 for 2.4GHz W/Reserve SMA Connector & 2 for 5GHz W/ SMA Connector)

Environment

Operating Temperature: 00 °C ~ 50 °C
Storage Temperature: 00 °C ~ 60 °C
Opeaating Humidity: 10~80%(non condensing)
Storage Humidity: 5~90%(non condensing)

Power Supply

110 – 220V AC Power, 12 VDC,2A input.

Dimensions

165(mm) * 132mm * 30mm (L*W*H)

Certificate

CE, ROHS compliant